Unraveling the mystery of how much yarn to knit socks can be a knotty question, because knowing the exact amount can simplify your knitting experience and help you plan your projects better.
Determining the amount of yarn needed to knit a pair of socks largely depends on the size of the socks and the thickness of the yarn. As a general rule, you'll require between 350-500 yards of yarn for an adult pair of socks. For children's socks, the amount is considerably less, typically around 200-350 yards. However, these figures can vary based on factors such as the type of stitch used and the desired sock length. This article will delve into these details, ensuring you never run out of yarn mid-project or overbuy for your sock knitting endeavors.
Key takeaways:
Adult socks: 350-500 yards, Children's socks: 200-350 yards
Fine weights for lightweight, comfortable socks
Consider comfort, durability, budget, and pattern complexity
Needle size affects the amount of yarn needed
Different stitch patterns can impact yarn usage
Determining Yarn Weight for Knitting Socks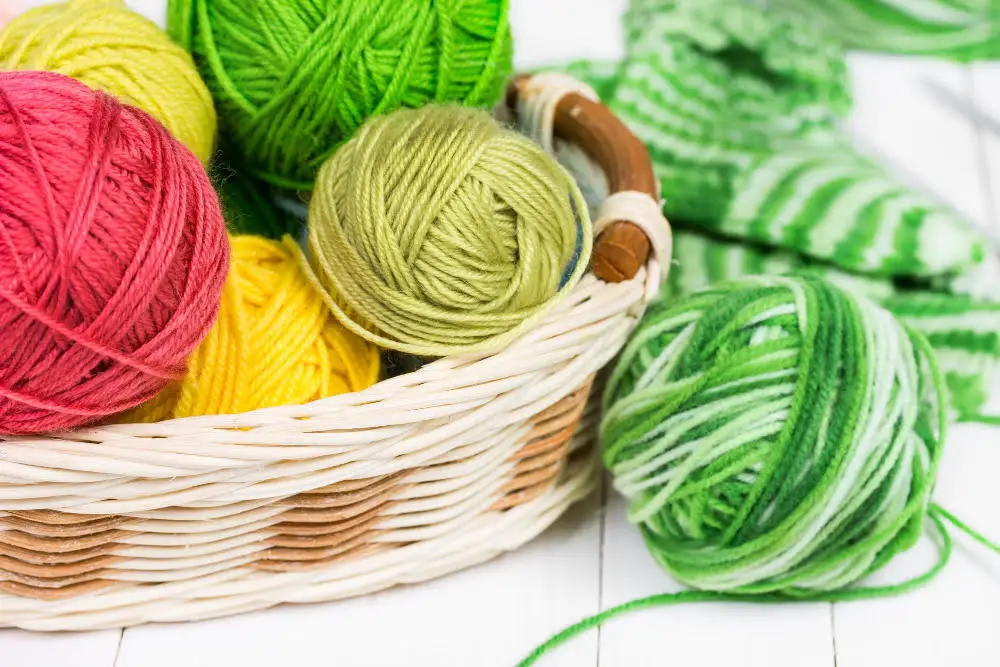 Yarn weight is a significant factor, it not only influences the texture but also the durability of your knitted socks. Generally, fine weights such as fingering, sock, or sport weight are preferred. These weights result in lightweight, comfortable socks that fit well within shoes.
Yet, when thinking about durability, a medium or worsted weight can provide a sturdier result. Heavier weight yarn might be useful for creating house or bed socks, where they can be slightly looser and the cozier texture is appreciated.
Keep in mind that sock knitting is a balance between comfort, fit, and durability. The yarn weight you choose indeed impacts this balance. Comfortable footwear is often made from finer yarns, while thicker yarns yield more warmth and cushioning. It's also important to note that different weights will require varying amounts of yarn. Thicker yarns use more material, so if you're on a budget, this is another factor you'll want to account for in your decision.
Texture and color are also influenced by yarn weight. Finer yarns display intricate stitch patterns and colorwork more clearly than their bulkier counterparts. This is especially important if you are knitting socks with a complex design. A heavier yarn might obscure the finer details. On the other hand, a dense, colourwork pattern may be more visible with a bulkier yarn.
To sum up: consider comfort, durability, budget, and pattern complexity when deciding on the weight of your yarn for sock knitting.
Choosing Appropriate Yarn for Sock Knitting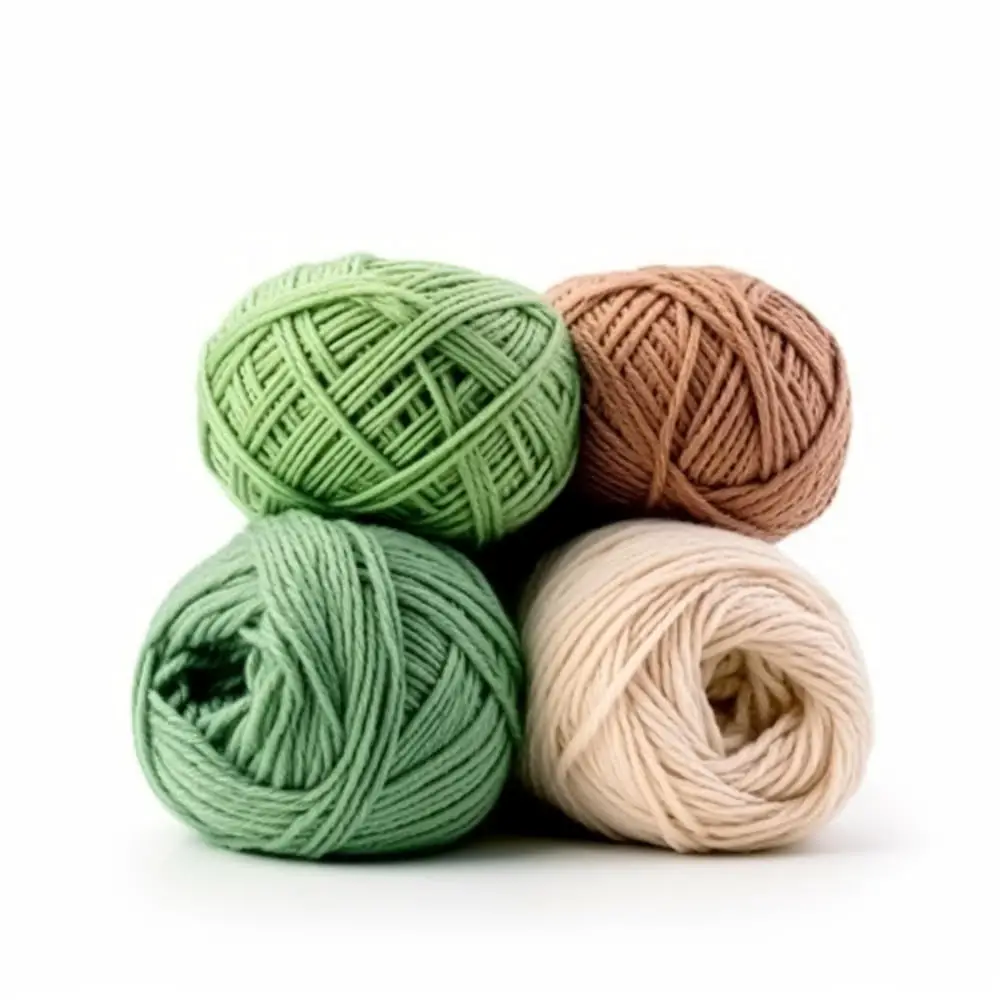 When selecting yarn, consider the end use of the socks. Everyday socks demand durability, so choose yarns that incorporate wool and nylon for their wear-resistant properties, like a Superwash wool blend. Yarn with a percentage of synthetic material, such as polyamide or elastane, can enhance the stretch and fit.
For luxurious or gift socks, yarns that include silk, cashmere or alpaca provide a soft feel and a bit of indulgence. However, it's critical to bear in mind that these may not withstand heavy use as well as wool-nylon blends.
Also, consider the weight or thickness of the yarn. Fingering weight yarn, also known as sock yarn, is common because it's light and thin, ensuring socks fit well in shoes. For thicker, warmer socks – like bed socks – a sport or DK weight yarn might be preferable.
Finally, color and ply matter. Self-striping yarn can add fun patterns without extra effort, while a tightly plied yarn will wear better, reducing the likelihood of holes.
How Much Yarn Do You Need for a Pair of Basic Mid-calf Stockinette Socks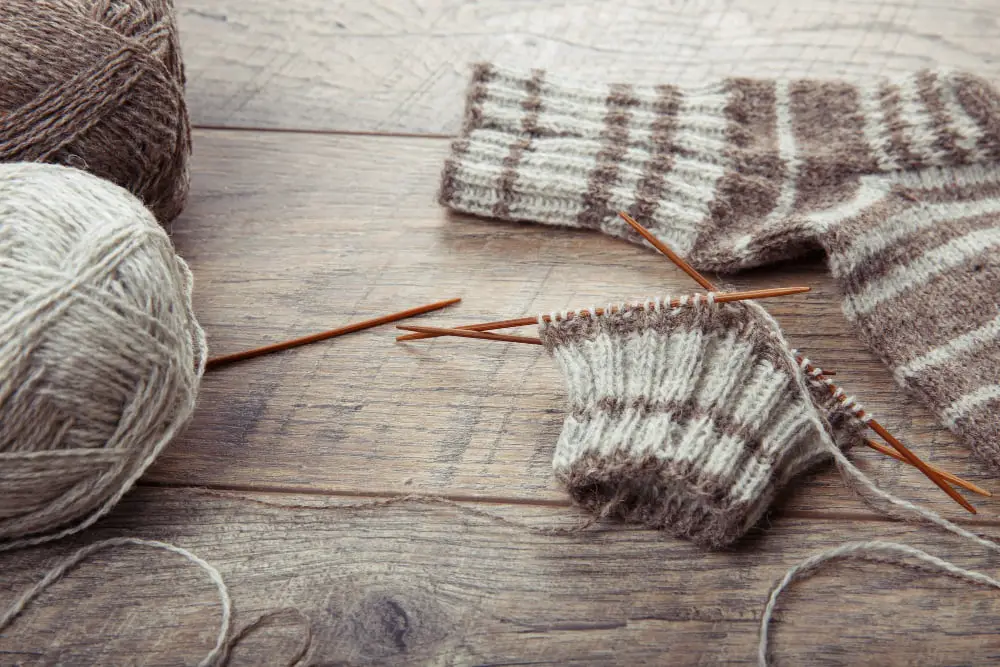 Depending on the size of the sock and the thickness of the yarn, the amount needed varies. As a general guide, for average adult-sized socks made with medium (worsted) weight yarn, expect to use approximately 350-400 yards. For those knitted with fine (sock or fingering) weight yarn, you may need around 400-450 yards. Keep in mind, thickness of the yarn impacts not only the amount but also the fit and comfort of the socks.
Knitting sock for children or those with smaller feet? A single 100g skein of sock weight yarn can often suffice.
Bigger feet? A safer bet may be two skeins or 500 yards to comfortably cover the distance up to mid-calf.
The yarn usage can change with different stitch patterns. For instance, ribbed socks or ones with cable design may require more yarn due to their stretched nature. Always refer to your pattern's yarn recommendations or do a gauge test to get a more accurate estimate.
Regardless, it's always better to err on the side of caution and purchase a little more yarn than you think you'll need. Who knows, leftover yarn could be useful for your next knitting project or for mending holes.
Understanding the Role of Knitting Needles in Sock Knitting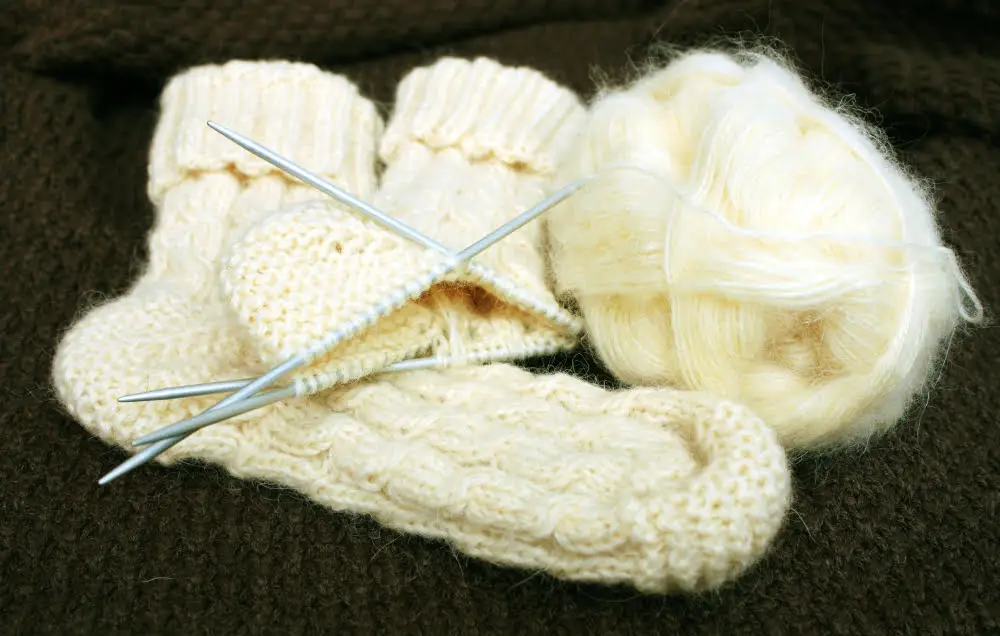 The size of your needles is a determining factor in how much yarn you'll need. Remember that the smaller the needles, the more stitches per inch, and consequently, the more yarn is needed.
Not only does the needle size affect the density of your stitches, but also the elasticity and durability of your socks. Smaller needles yield a tightly woven fabric that withstands wear and tear better, especially important for areas like toes and heels.
Be sure to opt for double-pointed or circular needles to accommodate the sock's circular pattern. If you're making your socks from fingering weight yarn, size US 1 or 2 (2.25 – 2.75mm) needles are usually recommended. Knitting with chunky yarn? Look to size US 9 – 11 (5.5 – 8mm) needles. Always check the yarn label or your sock pattern for exact needle requirement.
Remember: Always swatch before you get started, to ensure you're hitting the ideal gauge for your project to guarantee great fit and to avoid running out of yarn. You wouldn't want to find yourself in the middle of a masterpiece creation only to hit the end of your skein too early!
Effects of Different Stitch Patterns On Yarn Usage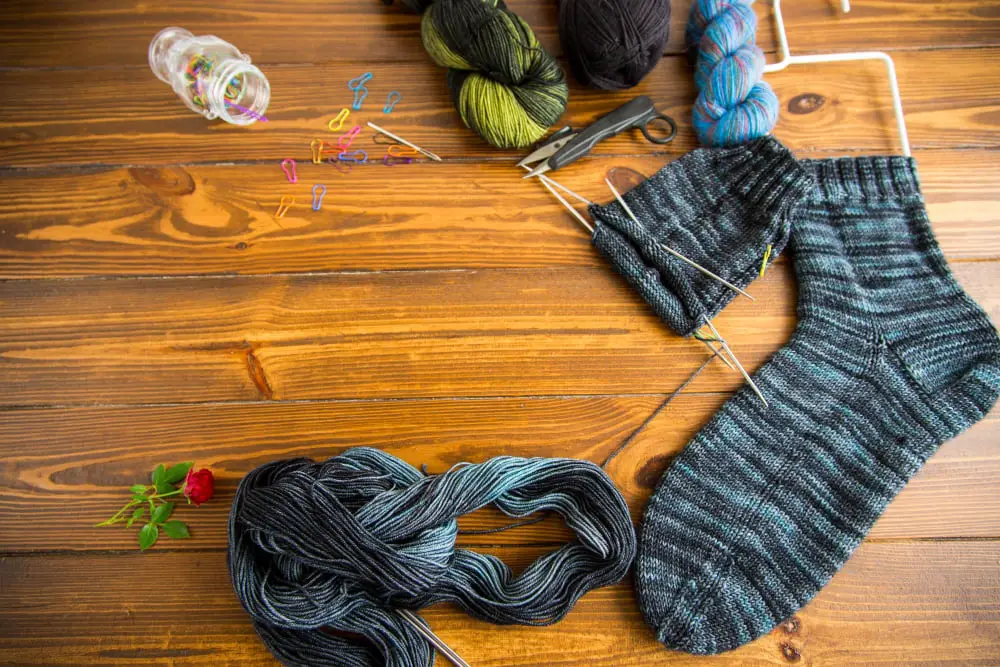 When it comes to the yarn consumption, stitch pattern can play a significant role. Different stitches have different structures, resulting in varying levels of tightness and coverage.
1. Stockinette stitch: Known for its smooth, simple texture, this stitch typically uses less yarn than most patterns. It is perfect for showcasing the color and texture of your yarn.
2. Garter stitch: This creates a dense, warm fabric that uses a bit more yarn than the stockinette stitch, due to its purl bumps.
3. Cabled stitch: With its intricate loops and twists, cable stitch requires more yarn. The high-relief texture adds bulk, thus consuming more yarn.
4. Lace stitch: Featuring decorative holes and openwork, lace stitch is relatively economical in terms of yarn usage.
5. Ribbing Stitch: It creates a stretchy fabric perfect for fitted socks. It tends to use more yarn than stockinette stitch owing to the combination of knit and purl stitches.
6. Fair Isle or Colorwork: This technique involves multiple colors in the same row. The carried yarn, or floats, on the back of the work can add to the amount of yarn used.
Remember, regardless of the stitch pattern used, practice swatching before embarking on your project. A gauge swatch helps estimate the yarn consumption, ensuring that you have enough for your sock knitting project.
Basic Ankle Socks and Their Yarn Needs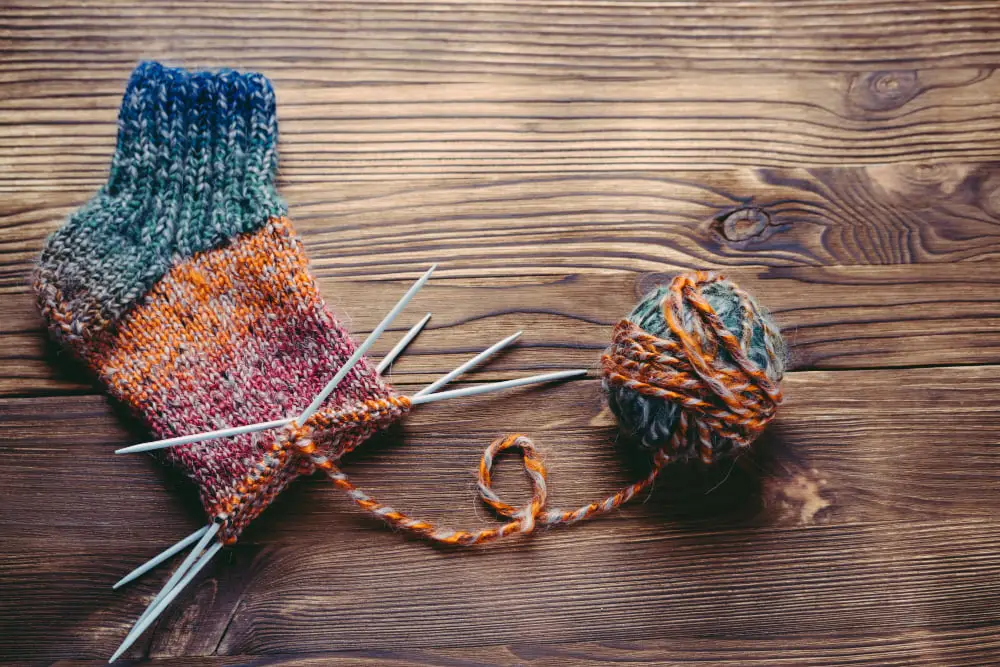 When embarking on knitting ankle socks, the required quantities of yarn may vary, primarily on sock size and yarn thickness. Here's what to consider:
1. Yarn Weight: Lightweight yarns, such as fingering weight or sock weight, are commonly used for ankle socks. Approximately 200-300 yards (183-274 meters) are usually enough.
2. Size Matters: Needless to say, smaller socks require less yarn than larger ones. For a women's standard size, you might use about 275 yards (251 meters). However, larger men's sizes could exceed 350 yards (320 meters).
3. Gauge: It refers to the number of stitches per inch that you knit. A tighter gauge uses more yarn.
4. Pattern: Different knitting patterns have diverse yarn demands. Basic stockinette stitches consume less yarn compared to more complex designs like a textured or cable pattern.
Remember, it's always better to overestimate your yarn needs slightly to account for any swatches or unexpected mistakes. It's much easier to find a use for leftover yarn than to find matching yarn later on!
How to Knit Long-lasting Socks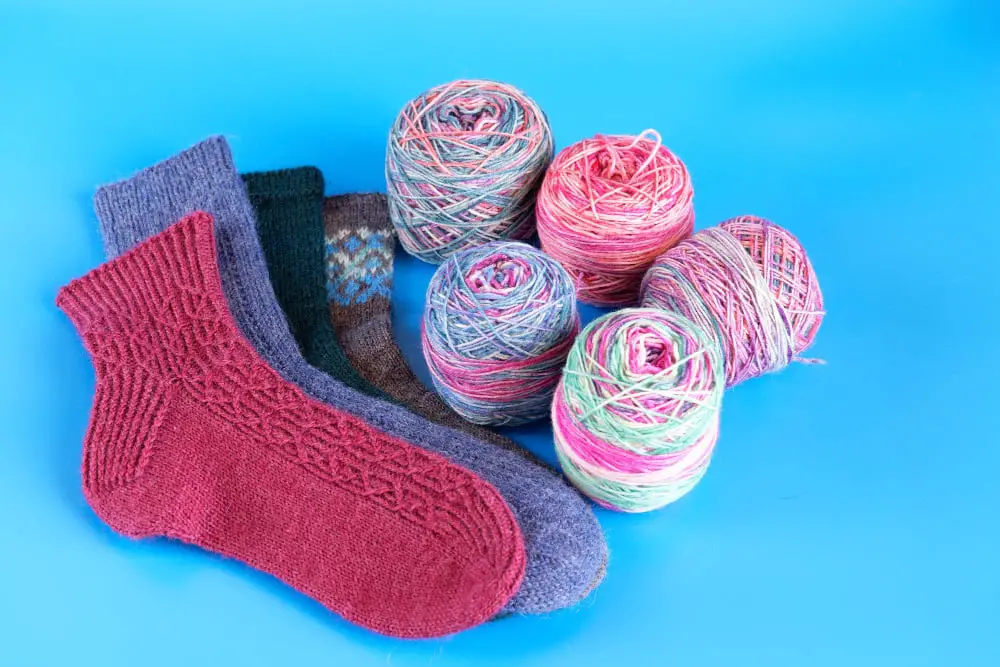 A sturdy and well-worn pair of handmade socks boasts its durability due to two primary factors: yarn type and knitting technique.
1. Yarn Type: Selecting a suitable yarn is essential. Fibers such as wool and nylon yield robust socks. Particularly, look for skeins labeled "Sock Yarn" that are designed to endure substantial wear.
2. Fibers Blends: Yarns combining both wool and synthetic materials provide long-lasting elasticity and enhanced warmth.
3. Knitting Technique: Specific stitches and techniques make socks more resilient. A thicker knitting stitch, like the slipped stitch rib, provides additional padding and decreases wear.
4. Heel and Toe Reinforcement: These areas experience the most wear. Techniques such as double knitting or applying a reinforcing thread can extend the lifespan of your socks.
Remember, your choice of yarn and knitting technique significantly determine the longevity of your beloved knitted socks.
Easy Striped Socks Pattern for Beginners and Its Yarn Requirements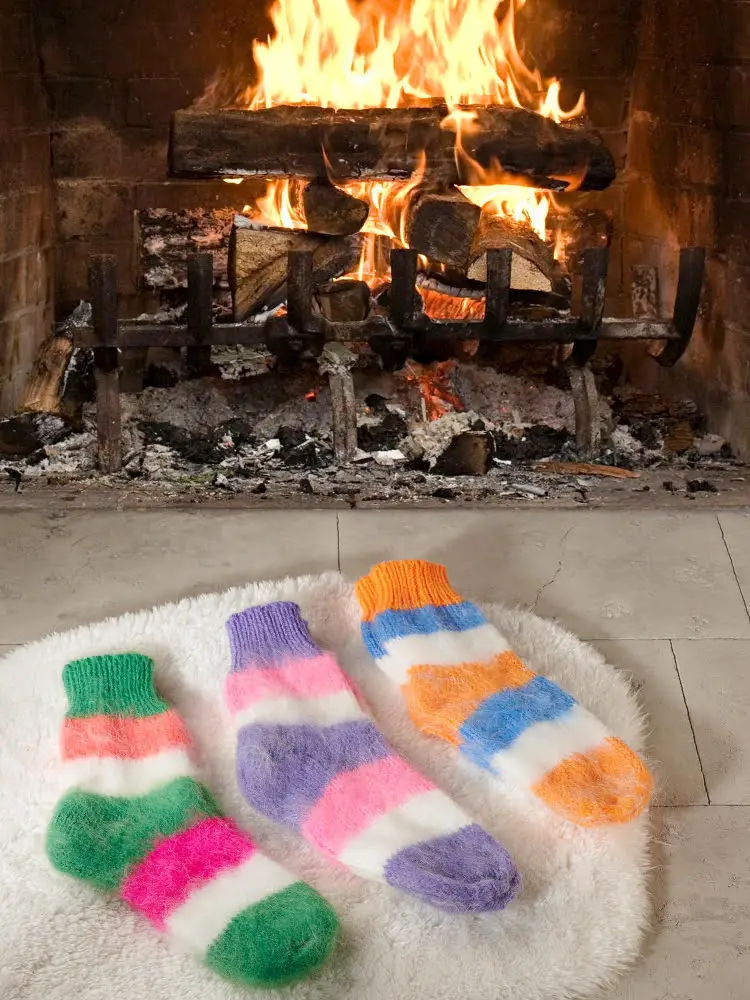 To create a pair of Easy Striped Socks, beginners usually require two different colorways of fingering weight yarn: primary color and secondary color. The primary color forms the main body of the sock, while the secondary color is used for the stripe pattern.
On average, approximately 400 yards (365 meters) of the primary color yarn is needed. For the secondary color, about 200 yards (182 meters) generally suffices. Remember, the exact amount can vary depending on factors such as the yarn's weight, knitting needles, stitches used, and the desired length of the sock's cuff.
Choosing yarn that's both soft and durable is crucial for a comfortable, long-lasting pair of socks. Wool, especially superwash wool, is a popular choice due to its resilience, warmth, and easy-care properties. However, blends of wool and nylon offer increased durability, making them a great choice for socks that will stand up to regular wear and laundry cycles.
The Easy Striped Socks Pattern, featuring simple stripes, is a fantastic project for practicing basic stitches and learning how colorwork can transform a simple knitted item into a delightful handmade masterpiece.
Heart Baby Socks and Their Yarn Demands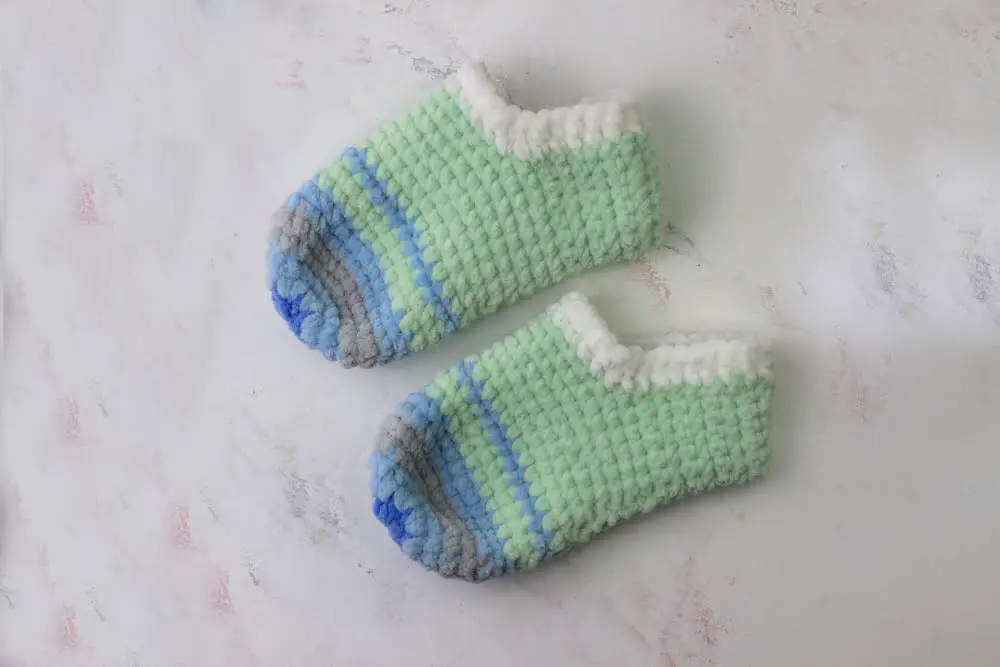 When embarking on a baby sock project, bear in mind that infants' feet aren't as large as adults'. For the heart baby socks, with an average foot length of 3.5 – 4 inches, you will need less yarn. Approximately 100 – 150 yards should suffice for a pair.
In regards to yarn type, opt for softer, washable fabrics such as fine cotton, soft merino wool, or a hypoallergenic blend, given that a baby's skin is delicate and can be prone to irritation. Also, note that variegated yarns can add a fun kick to the heart pattern of the socks.
Despite their low yardage requirements, baby socks often involve intricate patterns. Therefore, confirm you have enough yarn before starting the project to avoid color mismatches.
Finally, consider the yarn thickness or weight. For baby socks, a lightweight or fingering yarn is appropriate due to its thinness and gradual increase in thickness, making the socks warm yet not too bulky for the little one's feet.
FAQ
How many balls of yarn do I need for a pair of socks?
For an average adult pair of socks, you will typically require two 50-gram balls or one 100-gram ball of sock yarn.
Is 50g yarn enough for socks?
Yes, 50g of yarn is sufficient for creating a pair of child-sized socks, but for adult sizes, approximately 100g is required.
How much yarn do you need for a sock toe?
For a sock toe, 100 grams of sock yarn will suffice for sizes below US shoe size 10 (42 EU).
What is the formula for basic sock knitting?
The formula for basic sock knitting is to multiply the number of stitches per inch or centimeter by the total desired circumference in inches or centimeters to determine the number of stitches to cast on.
What is the average yarn weight required for men's versus women's socks?
The average yarn weight required for men's socks is around 100-120 grams, whereas for women's socks it is typically between 50-100 grams.
How does sock size affect the amount of yarn used?
Sock size directly influences the amount of yarn used, with larger socks requiring more yarn due to the increased surface area and length.
Can the type of yarn (wool, cotton, synthetic) alter the quantity needed for knitting socks?
Yes, the type of yarn can influence the quantity required for knitting socks, as different materials have varying thicknesses and density, which can drastically affect the amount needed.
Related Stories