Explore the versatile world of chunky yarn as we delve into a multitude of creative projects you can craft, from cozy blankets to stylish accessories.
Chunky yarn, with its thick texture and quick work-up time, is a fantastic material for creating cozy and stylish items. Whether you're a beginner or an experienced crafter, you can use chunky yarn to make a variety of projects, such as blankets, scarves, hats, pillows, and even home decor items.
This article provides a comprehensive guide on how to make the most out of your chunky yarn, complete with step-by-step instructions and tips for each project. So, get your hooks and needles ready, and let's dive into the wonderful world of chunky yarn crafts.
Key takeaways:
Chunky yarn is versatile for making blankets, scarves, hats, pillows, and home decor items.
Arm knit a chunky blanket by selecting the right yarn and practicing the stitches.
Create a candy stripe knit sweater by choosing contrasting colors and using basic knitting techniques.
Make chunky crochet slippers using super bulky yarn and a larger crochet hook.
Knit bulky hats in the round with basic stitches and personalize with pompoms or embellishments.
Chunky Arm Knitted Blanket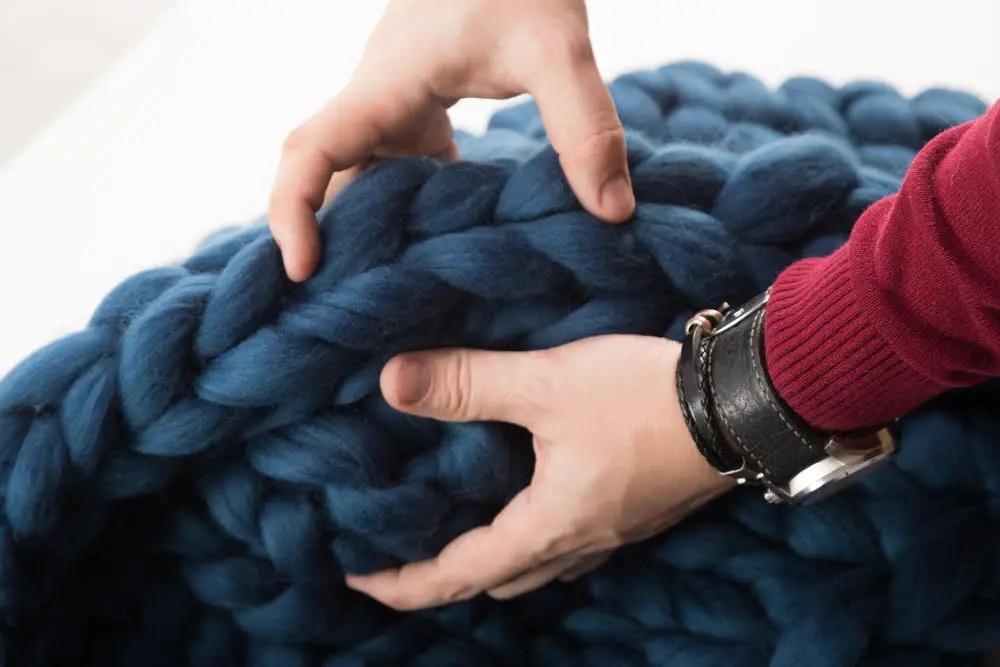 From selecting the chunky yarn to creating a cushy and warm arm-knitted blanket, here are the essential aspects to consider:
The size of the blanket you plan to create will dictate how much yarn you'll need. A small throw may only require a few skeins, while a larger blanket might need upwards of ten.
Arm knitting, distinctive from traditional knitting, simply implies using your arms apart from knitting needles to form the stitches. It's a quick and enthralling approach that makes use of the soft chunky yarn strands effectively.
Color selection contributes greatly and depends on your preference or the decor. Vibrant colors become an interesting centerpiece; neutral shades can give a softer, calming appeal.
To arm knit a blanket, begin with a long tail cast-on. After creating the first row of stitches on your arm, you'll proceed by knitting each stitch and passing it over onto your other arm.
The stitches must maintain a consistent size, which makes a practice run beneficial. Try a few rows and undo them before starting on the actual blanket.
Be prepared to dedicate a few hours to complete the arm-knitted blanket. Arm knitting is quicker than traditional methods, but it's still a time-consuming process.
In the end, bind off your blanket to secure the stitches, leaving you with a chunky, cozy throw perfect for snuggling.
Candy Stripe Knit Sweater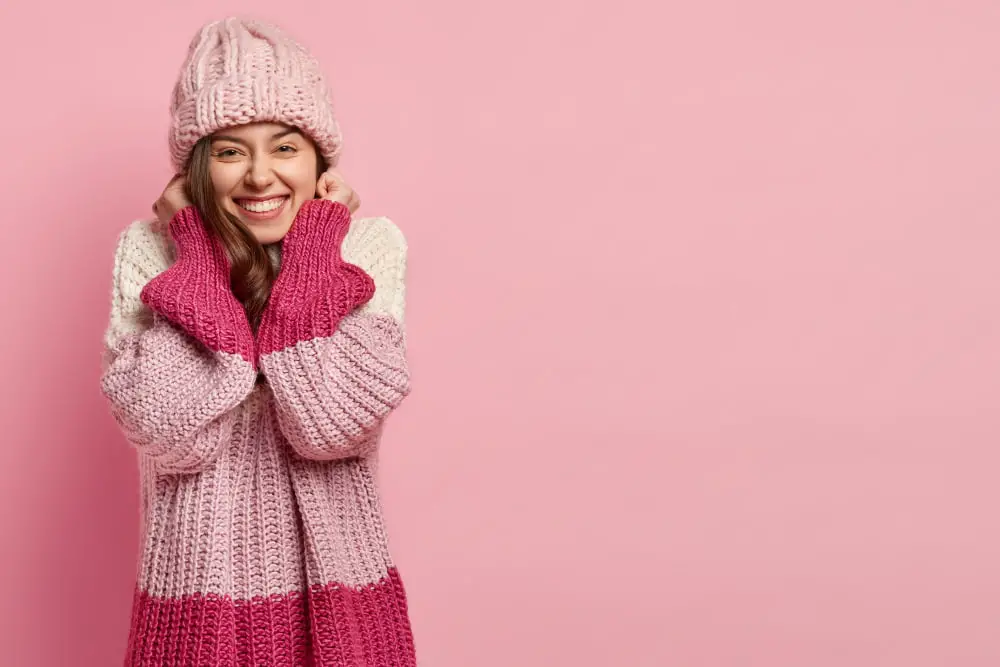 The Candy Stripe Knit Sweater is an eye-catching project which combines fun stripes with the wonderful texture of chunky yarn, resulting in a stylish, cozy attire perfect for colder seasons.
First, choose two contrasting colors of chunky yarn to create the stripe effect – this will give the sweater a vibrant look.
Begin by casting on enough stitches for the size of the sweater desired, working in a K2, P2 ribbing pattern, which forms the bottom band of the sweater.
Proceed to the main body of the sweater, alternating between the two chosen colors every two rows to create the 'candy stripe' effect.
When you reach the desired length for the body of the sweater, split your work to create armholes, continuing in the striping pattern.
The sleeves are also knitted in the Candy Stripe pattern, but they start and end with the ribbing pattern to give it a uniform look.
Pair the chunky, candy-striped sweater with jeans or a skirt for a chic, hand-knitted ensemble that stands out.
The technique requires some basic knowledge of knitting, but with patience and practice, it is achievable for even novice knitters.
Chunky Crochet Slippers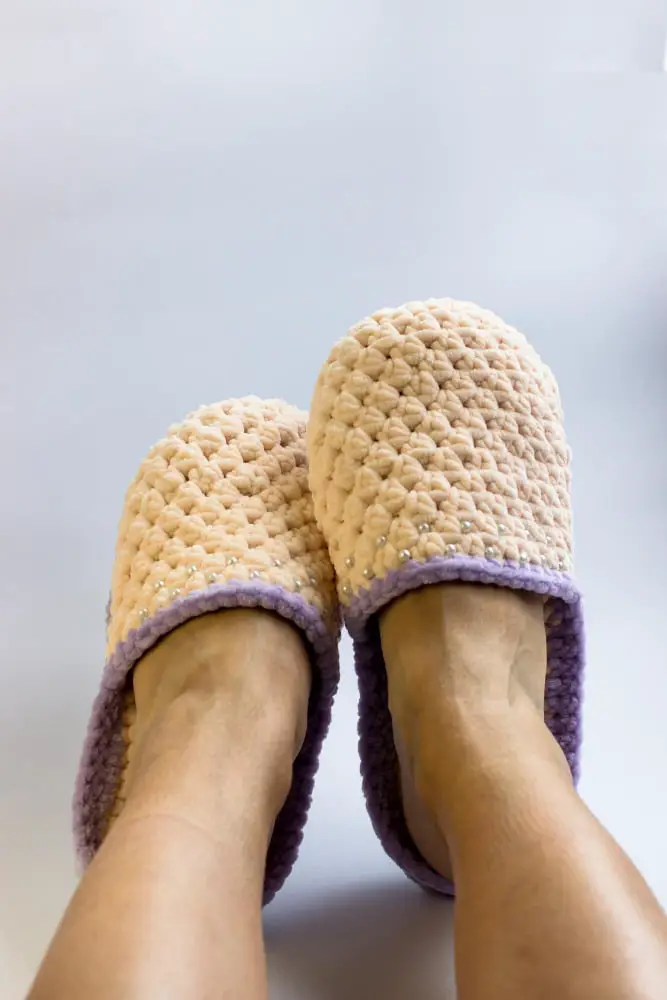 The beauty of chunky crochet slippers lies in their simplicity and warmth–perfect for loungy days at home. Softest when made with wool or alpaca blends, these cozy footwear are ideal for beginners due to their quick completion time.
Start off by choosing a super bulky yarn. The thicker the yarn, the faster your project will progress.
Then, choose your crochet hook. Remember, the thickness of your yarn will determine the size of your hook. For chunky yarns, a larger hook around the size of 9mm – 15mm is typically recommended.
Begin with a magic ring, which is a versatile way to start a multitude of crochet projects. Then, gradually increase your rounds to form the toe part of the slipper. Remember, it's important to constantly try them on to ensure a snug fit.
Next, create the body of your slipper. Continue crocheting in rounds, same as you did with the toe part, but this time, without increases.
Lastly, close off the heel part. This can be done with several slip stitches and a fasten off to ensure your work doesn't unravel.
A special touch you can add to your chunky crochet slippers is a crochet flower or pom-pom. Either way, these slippers are a quick project due to the chunkiness of the yarn, and this makes them an ideal choice for last-minute gift ideas. Just ensure to always use a soft, comfortable yarn to guarantee warmth and durability.
Bulky Knit Hats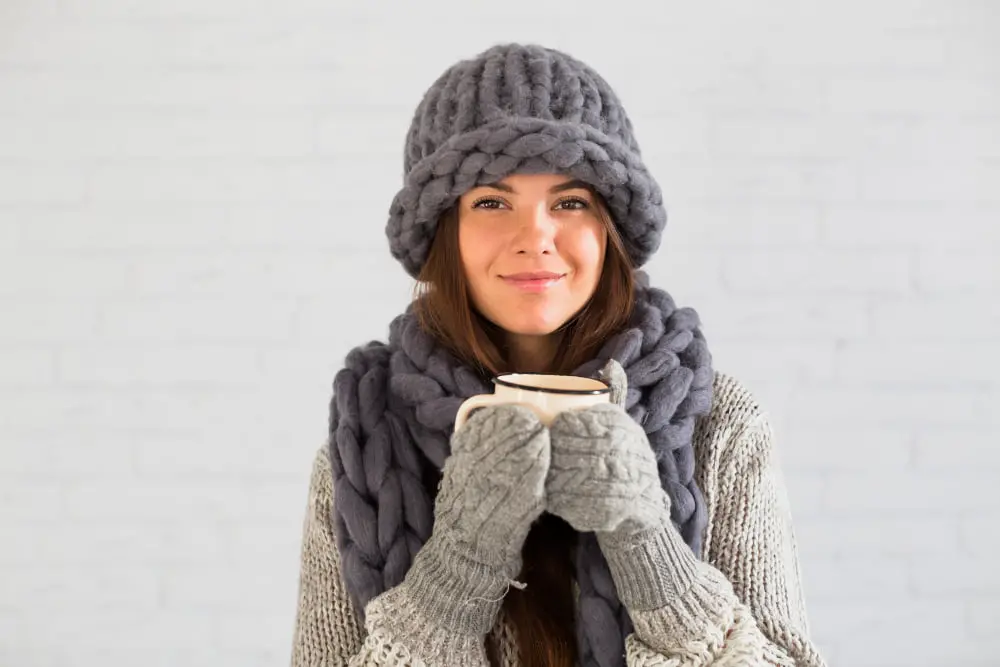 Creating a bulky knit hat can be a quick and satisfying project, even for beginners. Chunky yarn lends itself to knitting in the round with a simple pattern that can be easily adapted to fit different head sizes. The key ideas to consider:
Select a suitable chunky or bulky yarn, considering factors like color, texture, and fiber content. Acrylic, wool, or cotton are all good choices, depending on the desired look and feel.
Choose a knitting needle size appropriate for your yarn's weight. Typically, for chunky yarn, needle sizes 9 to 11 (US) are recommended, but it's always important to check the yarn label for guidance.
Mastering basic knitting stitches such as the knit stitch and purl stitch is vital in crafting a bulky knit hat.
Most bulky knit hats are created using a circular pattern. The beginner-friendly circle patterns require either joined knitting on a circular needle or on double-pointed ones.
Consider adding a pompom or other embellishments to your completed hat to personalize it further. These can be made out of the same yarn or a contrasting one for a fun twist.
Regularly trying your hat on or measuring it against a hat that fits well will ensure a good fit.
The beauty of using chunky yarn is that it knits up fast. So, whether a beginner or a seasoned knitter, a bulky knit hat is an ideal project for a weekend craft session.
Comfy Ribbed Cardigan With Chunky Yarn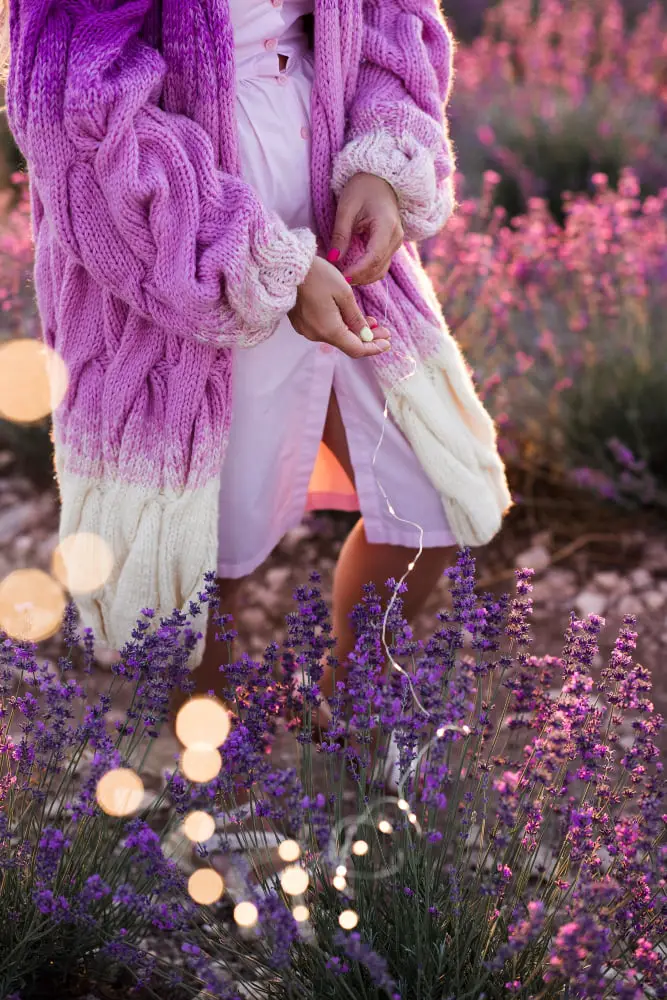 Chunky yarns lend themselves well to comfy ribbed cardigans due to their bulky nature and ease of working with. Though the cardigan is large in size, chunky yarn and larger needles result in a quicker production rate. This makes it perfect for beginners or those looking for quick projects.
The key concepts include:
Selecting the right yarn – Opt for a chunky, comfortable, yet durable yarn. Frequent use requires durability, while comfort is essential for a wearable piece.
Right knitting needles – Use larger knitting needles designated for chunky yarn. This will ascertain the ribbed effect is prominent and the knitting process smooth.
Mastering the ribbing technique – This basic knitting technique involves alternating knit and purl stitches within the same row to create raised rows or ribs.
Understanding and improvising sizing – Plans and patterns for chunky ribbed cardigans are readily accessible, with varying sizes. It's imperative to understand how to adjust these if needed, for a perfect fit.
Following a pattern – Beginners should ideally follow a pattern to avoid confusion. There are numerous available, each varying in difficulty level and design aesthetics.
The process becomes simpler with guidance, enabling even newcomers to produce a comfy, trendy chunky ribbed cardigan with minimal effort.
Chunky Knit Crochet Ornament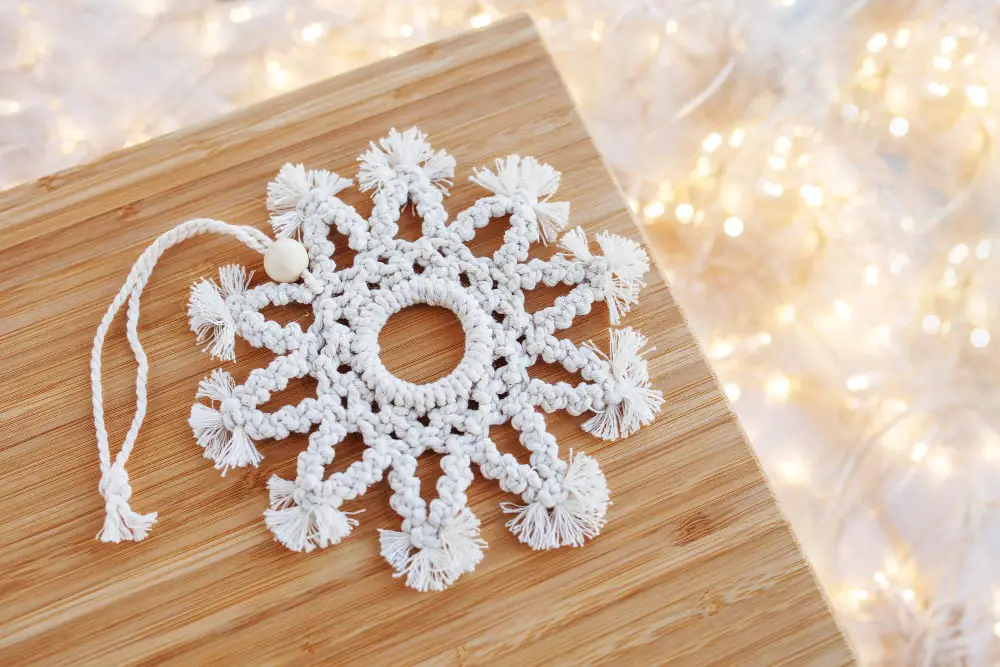 Ordinarily, the craft process begins by selecting the preferred chunky yarn. Depending on the desired final size, one may need a single skein or multiple.
The crochet hook size is vital because with chunky yarn, a large hook is typically the best fit. A size P/16 or Q/19 hook is often chosen.
Form a slipknot on the hook to initiate the crochet process, proceeding with the crafting of chain stitches to establish a solid foundation. This "chain" becomes the basis for the other stitches in your ornament.
There are numerous crochet stitches applicable for your ornament, but the simplest for beginners include the single crochet (SC) stitch or double crochet (DC).
Your crochet pattern will indicate the number of stitches required per row and when to turn your work. Do not rush to ensure neat, even stitches.
Remember to incorporate a loop at the top of your ornament during the final rounds of the crochet process. This loop is essential as it will serve to hang the ornament.
Post completions of stitches, cut a tail about 6 inches long. Yank the yarn through the last loop on your hook to fasten off your work. Weave in all ends to present a clean finished product.
Optional embellishments can provide personalized flairs to your chunky knit crochet ornament. Beads, sequins, or ribbons can add a festive touch.
Remember, chunky yarn makes for a quick crochet project. Despite its speed and ease, chunky yarn does not forsake beauty, delivering a pleasingly ornamental visual appeal.
Chunky Knit Basket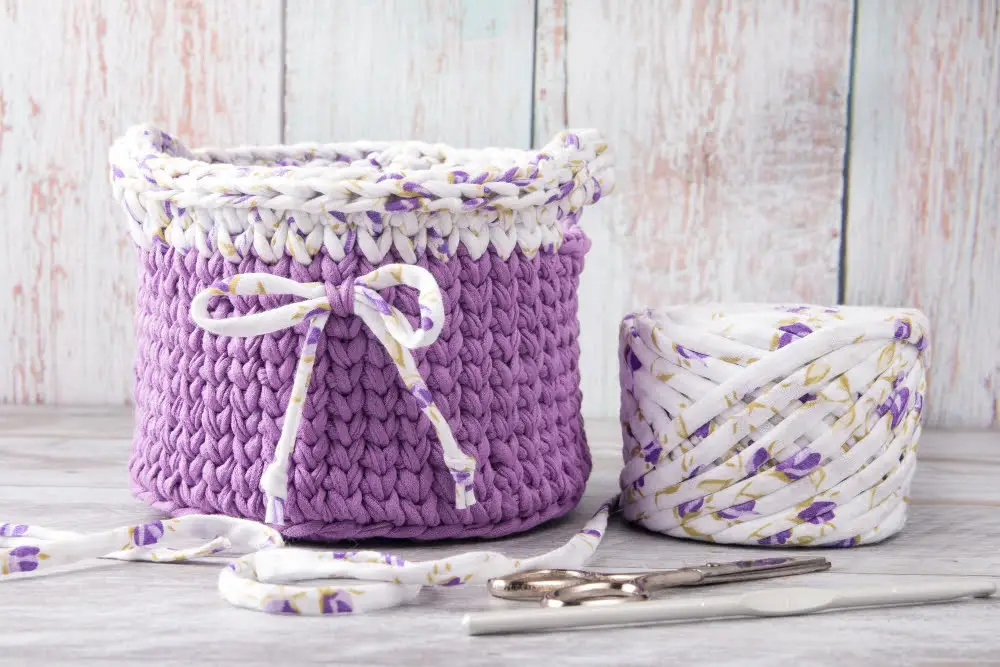 To create a chunky knit basket, a specific set of tools and steps are essential, which aids in achieving the desired output with finesse.
Beginning with the correct materials, you will need approximately 400 grams of chunky yarn. The choice of color is up to personal preference. Besides that, a pair of knitting needles that are size US 17 (12mm) and a tapestry needle are requisite.
For the knitting portion, you'll start by casting on 28 stitches. Follow this with a ribbed pattern (knit 1, purl 1) for about six rows. Switch to the stockinette stitch (knit 1 row, purl the next) for the subsequent rows. Once the piece is roughly 12 inches tall, you do three rows of the ribbed pattern again to match the base, and finally cast off the stitches.
Next, using the tapestry needle and remaining yarn, seams are sewn together to form the basket shape.
For the finishing touch, roll the ribbed top section over to the outside to create the basket edge. This chunky knit basket can now be used as a cozy storage for yarns or other treasures. Stitching details can be included or altered as per preference, ensuring you have a custom, handmade chunky knit basket ready for utilization.
FAQ
Is chunky yarn good for crocheting?
Yes, chunky yarn is ideal for crocheting, beneficial for beginners due to its larger stitches visibility and also favored by experienced stitchers for executing bigger projects speedily.
What type of projects are best suited for chunky yarn in knitting?
Chunky yarn is best suited for larger, warmer projects such as blankets, scarves, hats, and cowls in knitting.
How can you adjust crochet patterns to suit the use of chunky yarn?
To adjust crochet patterns for chunky yarn, reduce the number of stitches, increase the size of your crochet hook, and consider the overall dimensions and drape of the finished project.
What are some essential tips for working with chunky yarn on a knitting machine?
Essential tips for working with chunky yarn on a knitting machine include using a large gauge machine, loosening the yarn tension, utilizing every other needle, and regularly cleaning the machine to prevent fiber build-up.
Related Stories