Explore the diverse world of crochet bags as we delve into various types, designs, and patterns perfect for both beginners and experienced crocheters alike.
Crochet bags are not only functional but also stylish accessories that can add a touch of elegance to any outfit. From small clutches to large tote bags, there is a crochet bag for every occasion.
But with so many different types of crochet bag patterns available, it can be overwhelming to choose the right one for your needs. In this article, we will explore the various types of crochet bags and their uses, so you can find the perfect one that suits your style and purpose.
Whether you're looking for a beach bag or an everyday purse, we've got you covered! So grab your hook and yarn and let's dive into the world of crochet bags!
Introduction to Crochet Bags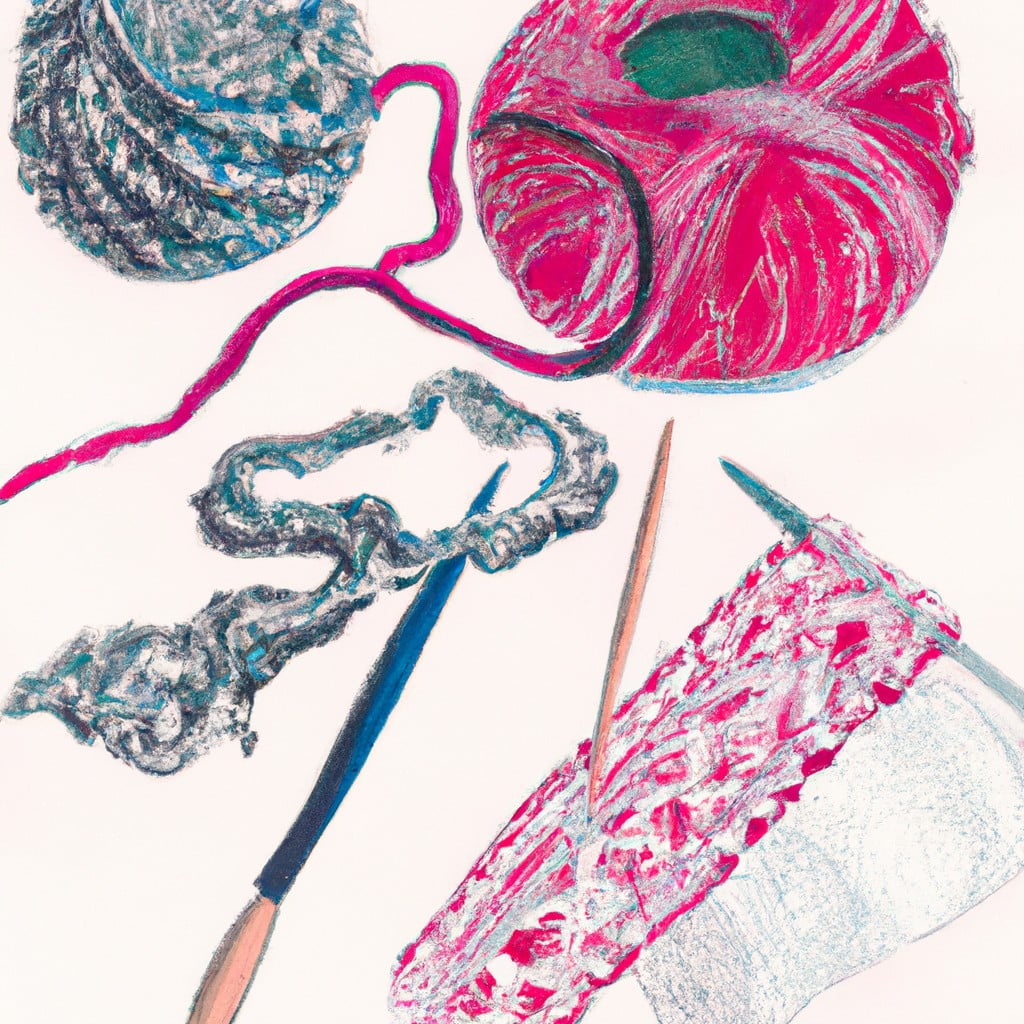 Crochet bags are a popular and versatile accessory that can be used for various purposes. They come in different shapes, sizes, colors, and designs to suit every style preference.
Crocheting a bag is not only fun but also allows you to create something unique that reflects your personality. Whether you're an experienced crocheter or just starting out with the craft, there's always something new to learn about crochet bags.
In this article on types of crochet bags, we will explore the world of crochet purses and handbags from beginner-friendly patterns like granny square bags to advanced techniques such as tapestry crocheting. We'll also cover materials needed for making these beautiful accessories including yarns (cotton yarns are great), hooks (sizes vary depending on pattern), lining fabrics (optional) among others.
Types of Crochet Bags
Each type of bag has its unique features that make it perfect for different occasions. Tote bags are great for everyday use as they can carry all your essentials while still looking stylish.
Clutch bags are perfect for formal events or a night out with friends when you only need to carry the bare minimum.
Beach bags are ideal for carrying towels, sunscreen, and other beach essentials while backpacks work well if you're going on an adventure or hiking trip.
If you're looking to add some bohemian flair to your outfit then bohemian crochet bags might be just what you need! These types of crochet purses often feature fringe detailing and bright colors that will make any outfit pop.
Granny square crochet purses have been around since the 1970s but remain popular today due to their timeless design. They usually feature colorful squares sewn together into one cohesive piece creating a beautiful patchwork effect.
Materials and Tools
The type of material you choose will depend on the style and purpose of your bag. For example, if you're making a beach bag or market tote that needs to be sturdy enough to carry heavy items like groceries or towels then cotton is an excellent choice.
In addition to choosing the right yarn for your project, it's also important to have the right tools on hand. A crochet hook is essential for any crochet project but when it comes to bags there are some additional tools that can make things easier such as stitch markers which help keep track of where each round begins and ends.
Another tool that may come in handy when crocheting bags is a blocking mat which helps shape your finished piece into its final form by stretching out any uneven stitches or bumps caused by tension issues during crocheting process.
Recommended Supplies for Crochet Bags
To make a crochet bag, you will need some essential tools and materials. Here are the recommended supplies for crocheting bags:
1. Crochet Hooks: Choose a hook size based on your yarn weight and desired stitch tension.
2. Yarn: Select high-quality yarn in the color of your choice, keeping in mind its durability and washability.
3. Stitch Markers: Use these markers to keep track of where each round or row begins or ends.
4. Scissors: A good pair of scissors is necessary for cutting yarn as you work on your project.
5.Tapestry Needle : This needle is used to weave in loose ends after completing the project.
6.Measuring Tape : It helps measure gauge swatches, finished projects dimensions etc.
7.Lining Fabric : If needed lining fabric can be added inside bag.
Having all these supplies at hand will help ensure that you have everything required before starting any crochet bag pattern.
Granny Square Bags
These bags are made up of small, colorful squares that are joined together to create a larger piece. The beauty of granny square bags is their versatility – they can be made in any size or color combination and can be used as anything from an everyday purse to a beach bag.
To make your own granny square bag, start by choosing your yarn colors and hook size. Then, create several granny squares using the traditional pattern (3 double crochets in each chain space).
Once you have enough squares for the desired size of your bag, join them together using either slip stitches or single crochets.
Next comes the fun part – adding handles! You can use leather straps or crochet handles depending on what style you prefer. Consider lining your bag with fabric to give it extra durability and structure.
Granny square bags offer endless possibilities when it comes to customization and personalization.
Bohemian Bags
These bags often feature unique designs, bold colors, and intricate details that make them stand out from the crowd. They're great for adding a touch of boho-chic to any outfit.
Crocheting your own bohemian bag is not only fun but also allows you to customize it according to your preferences. You can experiment with different yarns, colors, patterns, and embellishments until you find the perfect combination that reflects your personality.
Some popular types of bohemian crochet bags include hobo bags with tassels or fringe detailing; mandala-inspired circular purses; drawstring backpacks adorned with beads or feathers; and oversized market tote bags in earthy tones.
When crocheting a bohemian bag, don't be afraid to mix different textures such as cotton yarn combined with jute twine or ribbon accents. Adding wooden beads or shells can also give an extra touch of natural charm.
Tote Bags
They are versatile, spacious, and perfect for carrying everyday essentials such as books, groceries or even your latest crochet project! Tote bags come in various sizes and designs ranging from simple to intricate patterns. You can create a tote bag using different materials such as cotton yarn or jute twine depending on the purpose you intend to use it for.
One great thing about crocheting tote bags is that they allow you to experiment with different stitch patterns and color combinations. You can choose between solid colors or mix them up for a more vibrant look.
When making a tote bag, consider adding sturdy handles that will withstand the weight of your items without breaking easily. Leather straps make an excellent choice because they add durability while also giving your bag an elegant touch.
Clutch Bags
They are small, lightweight, and easy to carry around. Crochet clutch bags come in various shapes and sizes, from rectangular to circular designs.
You can make them with different types of yarns such as cotton or silk for a more elegant look.
One popular design is the envelope clutch bag which has a fold-over flap that gives it an elegant touch. It's perfect for formal events or when you need something simple yet stylish.
Another type of crochet clutch bag is the wristlet which comes with a strap that you can wear on your wrist like a bracelet while carrying it around effortlessly.
Crochet clutches also make great gifts because they're quick and easy to make but still have that personal touch! With just some basic crochet skills, you can create beautiful handmade pieces that will be cherished by your loved ones forever!.
Beach Bags
They come in various sizes and designs, but the most important thing is that they should be spacious enough to hold all your essentials such as sunscreen, towels, sunglasses, hats and more. Crochet beach bags are not only functional but also stylish and can add a touch of elegance to your summer outfit.
When it comes to choosing the perfect crochet bag for the beach, consider using cotton or jute yarns as they are durable and easy to clean. A mesh design is also ideal because it allows sand particles to fall through easily.
Crochet patterns like bohemian style or market bag designs work well for creating beautiful yet practical crochet beach bags that will make you stand out on any sandy shore! Don't forget about adding some fun embellishments like tassels or pom-poms which can give your bag an extra pop of color!.
Backpacks
They come in various sizes and designs to suit different needs. Crochet backpacks can be made using different stitches such as single crochet, double crochet or even Tunisian stitch.
One advantage of crocheting your own backpack is the ability to customize it according to your preferences. You can choose the color scheme that matches your style or add embellishments like tassels or pom-poms for a unique touch.
Crochet backpack patterns range from simple designs suitable for beginners to more complex ones requiring advanced techniques such as tapestry crochet or colorwork. Some patterns also include instructions on how to add pockets and compartments inside the bag.
When making a crocheted backpack, it's important to consider factors like durability and comfortability since you'll be carrying heavy items around in it. Using sturdy yarn like cotton will ensure that the bag lasts longer while adding padding on straps will make them comfortable when worn over long periods.
Messenger Bags
These bags are designed to be worn across the body, making them perfect for carrying your essentials while keeping your hands free. They come in various sizes, from small ones that can hold just a few items to larger ones that can carry laptops and other bulky items.
One of the most significant advantages of messenger bags is their versatility. They work well as everyday purses or as travel bags when you need to keep important documents close at hand.
You can also customize them with different colors, patterns, and embellishments to match your style.
When crocheting messenger bags, it's essential to choose sturdy yarns such as cotton or wool blends so they can withstand daily wear and tear without losing shape or structure over time. Consider adding lining fabric for added durability.
Pouches and Coin Purses
These crochet bags are perfect for carrying loose change, credit cards, and other small items. They come in various shapes and sizes, from simple drawstring pouches to intricate coin purses with zippers or clasps.
One popular type of crochet pouch is the drawstring bag. This type of bag is easy to make even for beginners as it only requires basic stitches such as single crochets or double crochets.
You can use any yarn weight you prefer depending on how big you want the finished product to be.
Another popular option is the granny square purse which features a classic design made up of colorful squares stitched together into one cohesive piece using slip stitches or whipstitching techniques.
If you're looking for something more challenging, try making a coin purse with zipper closure or clasp fastening mechanism which will require some advanced skills like sewing in lining fabric and attaching hardware pieces securely onto your workpiece.
Market Bags
These bags are usually made with sturdy yarn or twine to ensure they can hold heavy loads without breaking. They come in various sizes and designs, from simple mesh bags to more intricate patterns.
One of the benefits of using market bags is their eco-friendliness. Unlike plastic or paper grocery bags that end up in landfills after one use, market bags can be used repeatedly for years before needing replacement.
Crocheting your own market bag allows you to customize it according to your needs and preferences. You can choose the size, color scheme, handle length and style as well as add pockets if desired.
When selecting yarns for making a Market Bag consider cotton blends like Lily Sugar 'n Cream Cotton Yarn which comes in many colors including variegated options.
Novelty Bags
These bags come in all shapes, sizes, and designs that can range from cute animals to food items or even household objects. Novelty crochet bags are perfect for adding a touch of whimsy to any outfit or as conversation starters at parties.
Some popular novelty bag patterns include animal-shaped purses like cats, dogs, owls, and unicorns. Food-themed crochet bags such as cupcakes or pizza slices are also trendy among crocheters who love quirky designs.
If you're feeling adventurous with your crochet skills, you can try making more complex novelty bag patterns like the famous TARDIS (Time And Relative Dimension In Space) from Doctor Who series or an R2-D2 droid from Star Wars franchise.
C2C (Corner to Corner) Bags
The corner-to-corner technique involves working diagonally from one corner of the project to the other, creating a textured and visually appealing design.
One of the benefits of making C2C bags is that they can be customized in terms of size and color. You can use any yarn weight or color combination to create your own personalized bag.
Another advantage is that this technique creates a sturdy fabric with excellent drape, which makes it ideal for carrying heavier items like books or groceries.
To make your own C2C bag, start by choosing your yarn colors and hook size. Then follow a pattern chart or graph paper to create your desired design.
Once completed, add lining material if needed along with handles made from leather straps or crocheted cords.
Filet Crochet Bags
This type of crochet bag is perfect for those who want to add a touch of elegance to their outfit. Filet crochet bags are often made with delicate thread or lightweight yarn, making them ideal for special occasions such as weddings or formal events.
The beauty of filet crochet bags lies in the intricate designs that can be created by combining different stitch patterns. Some popular motifs include flowers, leaves, and geometric shapes.
One advantage of filet crocheting is its versatility; it can be used to create both small and large bags depending on the desired size. This technique allows you to customize your bag's design by incorporating initials or other personal touches into the pattern.
When working on a filet crocheted bag project, it's important to use fine thread or lightweight yarn so that your finished product has an elegant drape while still being sturdy enough for everyday use. Adding lining material will also help protect your belongings from falling out through any gaps in the openwork design.
Tapestry Bags
These bags are made using the tapestry crochet technique, which involves carrying multiple colors of yarn at once to create detailed images or geometric shapes on the surface of the bag.
One advantage of tapestry bags is their versatility in design. You can create any pattern you desire, from simple stripes to complex motifs.
They also come in various sizes and styles, including shoulder bags, crossbody purses, backpacks and more.
When making a tapestry bag it's important to use high-quality yarn that won't easily fray or break during use since these types of projects require many color changes throughout your work. It's also essential to maintain consistent tension while crocheting so that your stitches remain even throughout the project.
Amigurumi Bags
These adorable bags are typically made in the shape of animals, characters, or objects and can be used as purses or backpacks. They're perfect for kids or anyone who loves cute and quirky accessories.
To make an amigurumi bag, you'll need to have some experience with crocheting in the round and working with small pieces. You'll also need stuffing material like fiberfill or cotton balls to give your bag its shape.
There are many different patterns available online for amigurumi bags ranging from simple designs like a strawberry-shaped purse to more complex ones such as a unicorn backpack complete with rainbow-colored mane.
When making an amigurumi bag, it's important to pay attention not only on how it looks but also on its functionality. Make sure that the size is appropriate for what you intend using it for so that all necessary items can fit inside comfortably without weighing down too much on one side of the animal/object shaped design.
Lace Crochet Bags
These delicate and intricate designs can be made using fine yarns, such as cotton or silk, and require advanced crochet skills. Lace patterns can be used to create beautiful motifs that add texture and dimension to the bag.
One popular lace pattern is the pineapple stitch, which creates a lacy shell-like design that resembles pineapples. This stitch is often used in doilies but works well in creating unique lace bags too.
Another popular technique for creating lace crochet bags is filet crochet. Filet crocheting involves working with open spaces created by chains and double crochets to form intricate designs like flowers or geometric shapes on your bag.
When making a lace crochet bag, it's important to choose high-quality materials since they will affect the final look of your project significantly. Fine yarns like cotton or silk work best because they allow you more control over tension while still being lightweight enough not weigh down your finished product.
Hardware and Accessories
From zippers to buttons, clasps to handles, there are many options available for crocheters to choose from when designing their bags. The right hardware can make a big difference in the overall look and feel of your bag.
When selecting hardware for your crochet bag project, consider the size and weight of your bag as well as its intended use. For example, if you're making a heavy-duty tote or backpack that will be carrying a lot of weight on a regular basis then you'll want sturdy straps with reinforced stitching.
For smaller projects like coin purses or clutches where aesthetics is more important than function then decorative closures such as tassels or beads may be more appropriate.
In addition to functional hardware like zippers and clasps; decorative elements such as appliques can also add personality to any crochet bag design. Crochet flowers or other motifs can be used alone or combined with other embellishments like buttons for added interest.
Lining and Handles
A well-lined bag not only looks more professional but also helps to protect the contents of your bag from damage. Similarly, sturdy handles ensure that your bag can withstand daily wear and tear.
For lining a crochet bag, you can use a variety of materials such as cotton fabric or felt depending on the type of yarn used for crocheting. You will need to measure your finished crocheted piece accurately before cutting out pieces for lining so that they fit perfectly inside.
Handles come in different shapes and sizes – some are made with leather straps while others may be crocheted using thick yarns or even chains. It's important to choose handles based on their durability as well as how comfortable they feel when carrying heavy items.
Adding a lining and sturdy handle is an important step in creating beautiful yet functional crochet bags.
Care and Maintenance
However, like any other accessory, they require proper care and maintenance to ensure their longevity. Here are some tips on how to take care of your crochet bag:
1. Hand wash: Most crochet bags should be hand washed in cold water with a mild detergent and laid flat to dry.
2. Avoid machine washing: Machine washing can damage the delicate fibers of the yarn used in making your bag.
3. Store properly: When not in use, store your crochet bag in a cool and dry place away from direct sunlight or heat sources that could cause fading or shrinkage.
4. Handle with care: Be gentle when handling your crochet bag as it may stretch out of shape if pulled too hard.
5. Repair promptly: If you notice any loose threads or holes forming on your crocheted purse, repair them immediately before they become bigger problems.
Tips for Beginners
First, choose an easy pattern that matches your skill level. There are many beginner-friendly patterns available online or in crochet books that you can try out.
Secondly, make sure to use the right yarn and hook size recommended by the pattern. This will ensure that your bag turns out the correct size and shape.
Thirdly, check your gauge before starting to crochet. Gauge refers to how many stitches per inch you get with a particular yarn weight and hook size combination.
It's essential because if your gauge is off from what is specified in the pattern instructions, then it could affect how big or small your finished bag turns out.
Lastly, consider adding a lining inside of your crocheted bag for added durability and structure; this will also help prevent items from falling through any gaps between stitches.
Advanced Crochet Techniques
These techniques can help you create intricate designs and patterns that will make your crochet bags stand out from the rest.
One such technique is tapestry crochet, which involves carrying multiple colors of yarn at once and creating a design by working over unused strands. This technique is perfect for creating detailed images or geometric patterns on your bag.
Another advanced technique is filet crochet, which uses open spaces in a mesh-like pattern to create an image or design. This method works well for adding lace-like details or text onto your bag.
If you're feeling adventurous, try incorporating amigurumi into your bags! Amigurumi refers to crocheting small stuffed animals or objects using tight stitches and shaping techniques. Adding an amigurumi element like a cute animal face onto a pouch can give it personality and charm.
Popular Crochet Bag Patterns
There are many popular crochet bag patterns that have stood the test of time and continue to be favorites among crocheters. One such pattern is the Granny Square Bag, which has been around for decades and remains a classic choice for those who love vintage-inspired designs.
Another popular pattern is the Bohemian Bag, which features intricate details like tassels, fringe, and beads. These bags often incorporate bright colors or bold prints that make them stand out from other types of crochet bags.
Tote Bags are another favorite among crocheters due to their versatility as an everyday accessory. They can be made in various sizes depending on your needs – from small handbags perfect for running errands to large tote bags ideal for carrying groceries or beach essentials.
Clutch Bags offer a more formal option suitable for special occasions like weddings or parties where you need something elegant yet practical enough to hold all your essentials without weighing you down.
Beach Bags come in handy during summer months when we all want something lightweight yet spacious enough to carry our sunscreen lotion, sunglasses, towels etc., while enjoying some fun under the sun!.
Crochet Bag Designers
They bring their own style, creativity, and expertise to each design they create. Some popular crochet bag designers include Dedri Uys from Look at What I Made, Tatsiana Kupryianchyk from Lilla Bjorn Crochet, and Rebecca Langford from Little Monkeys Crochet.
Dedri Uys is known for her beautiful designs that incorporate intricate details such as flowers or geometric shapes into her patterns. Her work has been featured in numerous publications including Simply Crochet Magazine.
Tatsiana Kupryianchyk's designs often feature bold colors and intricate stitch patterns that make her bags stand out. She is also known for creating detailed video tutorials to help crocheters follow along with her patterns.
Rebecca Langford's designs are both stylish and functional with a focus on practicality without sacrificing beauty. Her blog features many free crochet bag patterns perfect for beginners looking to try their hand at making a new accessory.
Modern Crochet Bags and Purses
These bags come in various shapes, sizes, and colors that can complement any outfit. They are perfect for those who want something unique and stylish yet functional at the same time.
One popular trend in modern crochet bags is using unconventional materials such as leather or denim with crocheted accents. This combination creates an interesting contrast between the softness of yarn and the durability of other materials.
Another trend is incorporating geometric patterns into bag designs, which adds a contemporary feel to traditional crochet techniques. Bold stripes or chevron patterns can also give your bag an updated look while still maintaining its classic appeal.
Many designers have started experimenting with different textures by combining different types of yarns like cotton or wool blends with metallic threads for added shine.
Tips for Crocheting Bags
Here are some helpful tips for crocheting bags:.
1. Use the right yarn: Choosing the right yarn is crucial when making a crochet bag.
You'll want something sturdy and durable that won't stretch or lose its shape over time.
2. Check your gauge to get the right size: Before starting any crochet project, make sure you check your gauge so that you can achieve an accurate size for your bag.
3. Consider adding a lining: Adding a lining not only gives structure and durability to your bag but also adds an extra layer of protection for items inside.
4. Pay attention to hardware and accessories: Hardware such as zippers, clasps, handles or buttons should be chosen carefully according to their purpose in order not only add functionality but also complementing style elements.
5.Careful blocking will help maintain shape after washing.
Use the Right Yarn
The type of yarn you use will determine the durability, texture, and overall appearance of your finished product. For example, if you're making a beach bag that needs to withstand sand and saltwater exposure, using a cotton or nylon blend would be ideal as they are sturdy materials that can handle wear and tear.
On the other hand, if you're creating an evening clutch or purse with intricate details such as lacework or embroidery designs then silk or wool blends may be more suitable for their softness and luxurious feel.
It's also important to consider color when selecting your yarn. Neutral colors like black, white beige are versatile options that can match any outfit while bold hues like reds blues greens add personality to your crochet bag design.
Check Your Gauge to Get the Right Size
Gauge refers to how many stitches and rows you need to create a certain measurement of fabric. It's important because if your gauge is too loose or too tight, it can affect the overall size of your finished project.
To check your gauge for a crochet bag pattern, start by making a swatch using the recommended yarn and hook size specified in the pattern instructions. Crochet several rows until you have at least 4 inches (10 cm) of fabric.
Next, measure across several stitches horizontally and vertically using a ruler or measuring tape. Compare these measurements with those given in the pattern instructions – if they match up perfectly then congratulations! You've got perfect tension!
However, if there are more or fewer stitches per inch than what's called for in the pattern instructions then adjust accordingly by changing either hook sizes (if there are too few) or tightening/loosening up on tension while crocheting (if there are too many).
Consider Adding a Lining
Not only does it give your bag a more professional look, but it also adds durability and strength to the overall structure of your project. A lining can help prevent stretching or sagging of the crocheted fabric over time and protect any items you may carry in your bag.
There are many different types of linings that you can use for crochet bags, including cotton or polyester fabrics. You'll want to choose a fabric that is sturdy enough for everyday use but still lightweight enough not to add too much bulk.
To add a lining, simply cut out pieces of fabric according to the size and shape of each section in your pattern. Then sew them together using either hand stitching or machine sewing techniques before attaching them inside your crocheted bag with small stitches around its edges.
Free Crochet Purse Patterns
These patterns allow you to create beautiful and functional bags without breaking the bank. You can find a wide variety of free crochet purse patterns that range from simple designs to more complex ones with intricate details.
One popular website for finding free crochet bag and purse patterns is Ravelry.com. This site has thousands of user-submitted designs that you can browse through by category or keyword search.
Another great resource is Pinterest, where you'll find an endless supply of inspiration for your next project.
When choosing a pattern, consider the level of difficulty and whether it matches your skill level as well as the type of yarn recommended in order to achieve optimal results. Some popular options include granny square purses which are perfect for beginners; bohemian-style purses featuring tassels or fringe; market bags made with sturdy cotton yarns; tapestry crocheted purses showcasing intricate colorwork motifs among others.
More Crochet Bag Patterns
Some popular websites that offer a wide variety of crochet bag patterns include Ravelry, Etsy, and Pinterest. You can also find many talented designers on Instagram who share their unique creations with the world.
If you're looking for something specific like a beach tote or market bag, try searching using those keywords along with "crochet pattern" in your preferred search engine. You'll be amazed at the number of results that come up!
When choosing a pattern, make sure it matches your skill level and experience as some designs may require advanced techniques or stitches. Don't be afraid to challenge yourself though – learning new skills is part of the fun!
Conclusion
With so many different types of crochet bag patterns available, you're sure to find one that fits your personality and purpose. Whether you're a beginner or an experienced crocheter, there's always something new to learn when it comes to creating beautiful bags with yarn.
Remember the tips we've shared in this article such as using the right yarn for your project, checking gauge for size accuracy, adding lining if necessary among others. So grab some colorful yarns and start crocheting today! You'll be amazed at how quickly you can create a stunning bag that will become an essential part of your wardrobe or daily routine.
Happy Crocheting!
FAQ
What is the best stitch for crochet bags?
The best stitch for crochet bags is a tight, dense stitch, either using a basic stitch like single crochet or a highly textured stitch like bobbles to prevent holes and items from slipping out.
Which yarn is best for crochet bag?
The best yarn for a crochet bag is 100% cotton yarn, as it is soft, durable, and brings out crochet stitches well.
Are crochet bags practical?
Answer: Yes, crochet bags are practical, as they can be functional and customized to match various styles while offering numerous pattern options.
Are crochet bags trendy?
Answer: Yes, crochet bags are trendy, as they add charm, personalization, and unique style to any outfit with various designs like traditional handbags or modern bucket bags.
How can beginners start making their first crochet bag?
Beginners can start making their first crochet bag by choosing a simple pattern, gathering required materials like yarn and a crochet hook, and following step-by-step instructions with patience and practice.
What are some popular crochet bag patterns and designs?
Popular crochet bag patterns and designs include the market tote, granny square bag, boho purse, mesh bag, and bucket bag.
Can crochet bags be easily customized for various purposes and styles?
Yes, crochet bags can be easily customized for various purposes and styles.
Related Stories